STRONG AT HOME, STRONG AWAY FROM HOME
THE EMILIA WINE GROUP
Emilia Wine is a winemaking cooperative with strong traditional bonds with its local area.
It is the result of the amalgamation of the Arceto, Correggio and Prato di Correggio wineries with Casali Viticultori's century-long expertise.
OUR WINERIES
Emilia Wine's partners put passion into what they do, bringing out all the purity of nature's fruits, with love and respect, making quality wines which bind man and the land indissolubly together.
THE TERRITORY
GIVING A VOICE TO OUR HISTORY AND BRINGING IT TO LIFE
Emilia Wine's estates are part of an area whose special geographical conformation has been considered especially well suited to vine growing since Roman times. From the Correggio, San Martino and Rubiera plains to the hills of Arceto, Scandiano, Casalgrande and Albinea.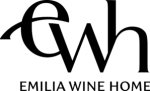 EMILIA WINE HOME IS EMBLEMATIC OF THE FIRM'S STYLE, A PLACE CAPABLE OF TELLING ALL ABOUT THE FASCINATING EMILIA WINE WORLD.
The Emilia Wine Home store tells our story, our vision and identity, what we are and what we want to become.
You can find us here: Via 11 settembre 2001, no. 3
42019 Arceto di Scandiano (RE)
COME AND FIND OUT MORE ABOUT OUR EVENTS AND WINE NEWS